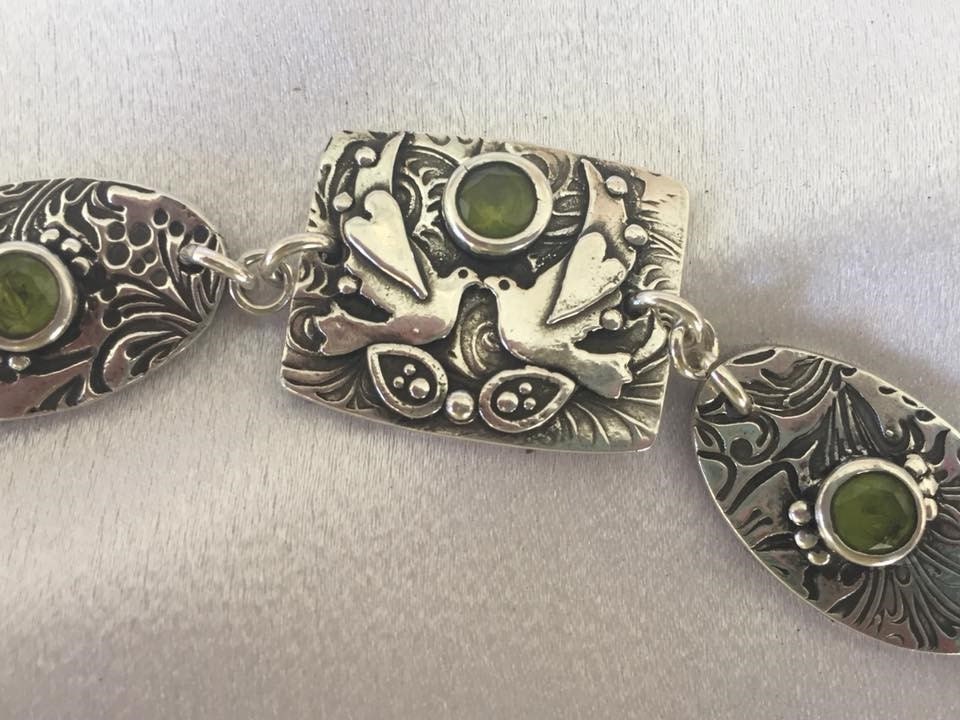 My niece was married this past St Patricks Day.  Her colors were green and her theme was Love Birds.  As a surprise, I created this beautiful bracelet for her to wear as her "something new".  I had more than a year to design and make this bracelet but I waited till just a few weeks before to start pondering the design in my head.  But I do work best under pressure so I didn't get serious about the design or start making the bracelet until 3 days before the wedding.  Read on to see just how many ways lucky St Patrick played a role in helping me do something special for such a wonderful, beautiful. smart person that my niece is. 
As I looked at pictures of different birds the idea bloomed in my head of doing two birds "kissing" and then adding hearts to the piece in some way.  As I was making the birds it just popped in my head (I love when that happens and thank you St Patrick!) to use the hearts as wings.  It was a challenge to sculpt the tiny birds and hearts and took several attempts but the end result was just what I imagined.  
It took me 2 days to create the bracelet but I was able to put it in the kiln just before bedtime at the end of day 2.  I woke up several times during the night wondering how it was going to come out of the kiln.   The firing itself takes 3+ hours (ramp time and holding time).  Because of the stones, I have to let the kiln cool on its own, which can take 4 or more hours depending on outsdie temperature.  To prevent the stones from cracking I cannot open the kiln door till the temperature reaches room temperature.
On the morning of day 3 I took the pieces out of the kiln, held my breathe and used my magnifiers to check every inch.  My first look was at the stones and hallejuia the stones didn't crack!  Sometimes I have to tweak a piece and refire depending on the mood of the "Kiln Gods" but thankfully this time they were kind to me (thanks St Patrick for telling them to be good).  I was really pushing the clock but St Patrick had my back.    
Thankfully no refiring was needed because this is day 3 and the LAST day to make this happen.  After firing I always burnish the piece then put it in the tumbler for 6-7 hours.  That meant I only had only a small part of the third day to patina the piece, hand polish then put the componets together.  And of course I had to decide what accent beads to use and was hoping I would have the right color and the right size because there was no time to do any ordering.  Lucky St Patrick was with me when I rummaged through my supplies and found the beautiful Vintage Robin's Egg beads which matched beautifully.
Now the real issue was hoping the bracelet fit so I brought all kinds of tools and such with me so I could make whatever adjustments needed.  I certainly couldn't get her wrist measurement in advance because this was a surprise.  Now the truly hard part, tracking down the Bride at a huge hotel in Orlando.  I couldn't just go to the front desk because hotel certainly wasn't going to tell me her location because of privacy.  My hubby and I walked all over the hotel for a good 20 minutes with him sweetly carrying my laden down tool kit that actually looks like a big woman's purse.  What a guy!  As lucky St Patrick would have it he guided me around the corner and actually into one of the large parking lots where I just happened to stumble across one of the groomsmen and he knew right where the Bride was!  When I walked into the Bride staging area she was sitting and having her hair done which was perfect!  And she loved the bracelet and the way it fit!
I can't tell you how special it was for me to be blessed to be able to create her something for such a monumental day for her.  She was the most beautiful bride I have ever seen and not because she's my neice!!  And she did all the wedding planning herself,  made the centerpieces and even decorated the reception area with the help of her bridesmaids.  She is truly amazing!
When I saw her walk down the isle and she was wearing the bracelet, it felt like my heart would burst with happiness!.  I felt like the luckiest Aunt in the world to have been able to be a part of her special day in this way.  And thanks to Lucky St Patrick everything just fell into place despite my waiting till the last minute!